Blake Pietila named CCHA Goaltender of the Year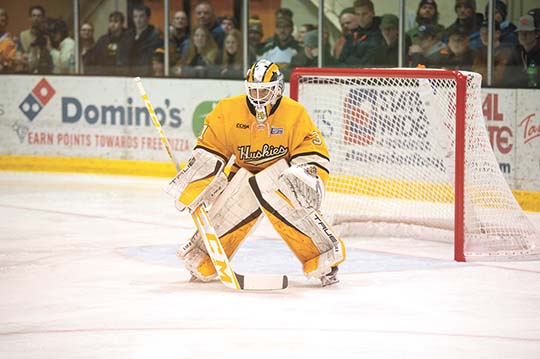 HOUGHTON — Michigan Tech's Blake Pietila has been named the CCHA Goaltender of the Year the conference announced Wednesday. Pietila was also a unanimous choice by the CCHA coaches as an All-CCHA First Team pick.
Pietila, a native of Howell, Michigan, broke Michigan Tech records for shutouts in a season (10) and career (20) while becoming the all-time wins leader with 58, a record he shares with Bruce Horsch. Pietila leads the nation in shutouts while ranking second nationally with 23 wins, third in save percentage (.929), and fifth in goals-against average (1.99).
"I just enjoy it, being a former goaltender, watching him play," said Huskies coach Joe Shawhan about Pietila. "I enjoy the position. I enjoy the detail of his game, the consistency of his performances, (and) how he approaches practice."
Pietila has appeared in 36 games for the Huskies going 23-10-3 overall. He is a top three finalist for the Mike Richter Award and was a Preseason All-CCHA selection. Pietila was named the CCHA Goaltender of the Month for October, January, and February, the CCHA Goaltender of the Week seven times, and the Most Valuable Player of the Desert Hockey Classic.
Pietila played in 24 CCHA games this season, going 14-7-3 with a 2.02 goals-against average and a .929 save percentage. He led the league in wins, save percentage, and shutouts (6), while finishing second in goals-against average and minutes played (1425:48). Ranking third in total saves (625), he allowed two or fewer goals in 16 conference games.
"There's a lot that goes into it," said Shawhan. "It's not just what you see on the weekends. There's a lifetime of work."
Shawhan is also proud of the way Pietila is helping develop the other two goaltenders on the Huskies' roster.
"I appreciate the type of teammate he is to the others," Shawhan said. "I appreciate how he mentors the other goaltenders, the relationship he has with them."
Shawhan also feels that Pietila has been a key component of the team's dynamic both on and off the ice.
"It's been a wonderful four years being able to be around so many of these guys," Shawhan said. "He's certainly a glue within that, something that holds it all together."
Voting for the 2022-23 All-CCHA Teams and CCHA Players/Coach of the Year awards were conducted by the eight head coaches at each CCHA member institution, based on CCHA conference games only. Coaches were not permitted to vote for their own players or themselves.
Editor's note: This story includes large portions of a press release from Michigan Technological University.