Kyle Kukkonen named CCHA Rookie of the Year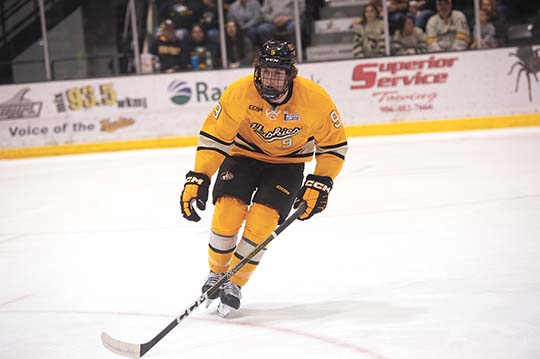 HOUGHTON — Michigan Tech forward Kyle Kukkonen has been named the CCHA Rookie of the Year the conference announced on Wednesday.
Kukkonen is Tech's first conference rookie of the year since 1973 when Mike Zuke was honored.
Kukkonen, a native of Maple Grove, Minnesota, and an Anaheim Ducks draft pick, was a unanimous selection on the CCHA All-Rookie Team on Monday after he leads CCHA freshmen, and the Huskies, with 18 goals.
"He's been great," said Huskies coach Joe Shawhan. "He started out really good. He had a bit of a lull in the middle, and then he ended really good. (He is a) dynamic hockey player.
"We're very fortunate to have him."
Kukkonen has the fifth-most goals by a Michigan Tech freshman in program history and his 18 goals are the most by a Tech freshman since 1988 when Kelly Hurd potted 18 tallies.
"He is a power play-type player that can play in a role surrounded by others," said Shawhan. "So he'll be a big part of what we do going forward for as long as he's here."
He was named the CCHA Rookie of the Week three times and the CCHA Forward of the Week once.
Kukkonen has skated in all 38 games and also tallied nine assists for 27 points. He ranks fourth nationally with five game-winning goals to lead the CCHA while also adding five power-play goals and a pair of shorthanded goals. Kukkonen had eight multi-point games and five games with a pair of goals. He went on three six-game point streaks.
"He's moving his feet, and that's helping him," said Shawhan. "So much of a winger depends on the center, and I think Logan Pietila has done a good job with him.
"He's a hockey player. He can score. He sees net, and you've seen him score with range. He scores in tight. He can beat guys with speed. He can make a play. He can dish the puck."
In CCHA games, Kukkonen played in all 26 conference contests for the Huskies and led all rookies with 14 goals and was third with 18 points. He led all skaters in game-winning goals (4) and ranked fourth in goals and goals per game (0.54), sixth in shots (82), and seventh in shots per game (3.15).
"He's probably a shoot first kind of guy, and I like that about him," said Shawhan. "So, I mean he can score. He's a shoot first kind of a guy. He can score. So, why dish the puck when you have a chance? Because (if) you have the ability to find the net, find the net, unless there's something that's so drastically wide open."
He recorded five multiple-point games in conference play with five power-play tallies and one shorthanded marker.
Voting for the 2022-23 All-CCHA Teams and CCHA Players/Coach of the Year awards were conducted by the eight head coaches at each CCHA member institution, based on CCHA conference games only. Coaches were not permitted to vote for their own players or themselves.
Editor's note: This story includes portions of a press release from Michigan Technological University.